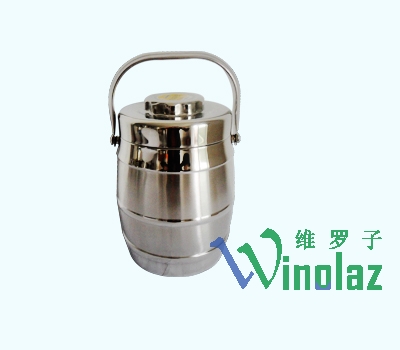 1、Description : B style vacuum cabas/lunch box with 2-layers
2、Material : SS18-8 , 201
3、Thickness : 1.2mm
4、Size : 1.4l , 2.0l
Feature: Stainless steel materials , With mirror-like brightness , Tactility hale cold , Accord with metal era of cruel feels aesthetic . Popularly say , Stainless steel is not easy rusty steel , Actually part of stainless steel , Both stainless sex, have again acidoresistant (corrosion resistance) . Stainless steel stainless sex and corrosion resistance is due to its surface rich chrome oxide film (passivation membrane) formation . This stainless sex and corrosion resistance is relative. Experiment shows that , Steel in the atmosphere, water etc weak medium and nitric acid etc oxidizing medium , The corrosion resistance with steel chromium contents of the increased with the, When chrome content reaches a certain percentage, Steel corrosion resistance mutations, Namely from corrodes easily to is not easy to rust, Never corrosion resistant to corrosion.